Expo Date: May 20, 2020
2020 Expo & Golf Cancelled
After much deliberation, we have made the decision to postpone the Supplier's Expo and Golf Outing until 2021 at the Signature of Solon Country Club. It was a difficult decision for us to make, and we are saddened that we will miss the opportunity to connect with you, but we feel that it is the right thing to do for the health and safety of our entire community.
You have 3 options for your booth/golfer fee:
Please reach out to us at businessoffice@iami411.org if you have additional questions or concerns.
Thank you for your continued support of the Lake Erie IFT Section.

Back to the Signature of Solon Country Club! Join us as we return to a great location for both the Expo and the Golf Outing. There are plenty of hotels to choose from.
Exhibitors will enjoy a hall with plenty of space – 8'x6' area with a 6 foot table, 2 chairs, and carpet. Also enjoy a free drink ticket and the opportunity to order lunch delivered to you while you set up your booth space. Appetizers and a cash bar will be available all through the EXPO.
Attendees have the opportunity to explore the latest in food ingredients, services, logistics, and more – all for FREE! Enjoy appetizers and a cash bar (one free drink ticket to each attendee!) throughout the Expo. Stay around for the social hour at the end of the day from 7-8 PM.
Make it 2 days of fun! Attend the golf outing on Tuesday, May 19 and the Expo on Wednesday, May 20.
Golf Information & Registration
Day-at-a-Glance – May 20
1:00-3:30 PM: Exhibitor Set up
4:00-7:00 PM: EXPO with appetizers and cash bar
7:00-8:00 PM: Social Hour

Venue Information
Signature of Solon Country Club
39000 Signature Drive
Solon, OH 44139
Website
440.498.8888
Hotels
Many hotels within 5 miles. Choose the one that best meets your needs.

Check out who is exhibiting
View the 2019 Exhibitor Guide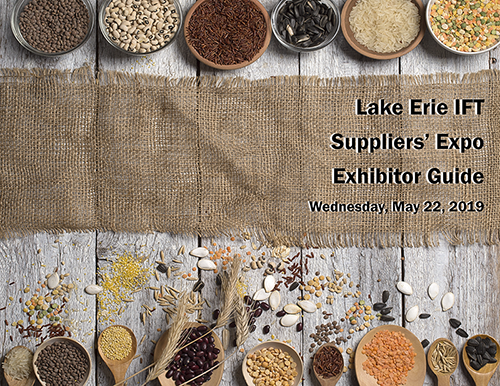 Again This Year!
Choose your table location - first come, first served!
Online Exhibitor Table Map/Floorplan means marketing from registration until the day of the event.
Edit your table information up until April 26, 2019.
Sponsor recognition on the website, in all marketing, in the exhibitor guide, and on banners at event.
Searchable and downloadable exhibitor list available to all attendees and visitors to the website for all-year recognition.
Link to your company listing in your email signature to market your attendance to your customers. Replace 152 with your table number in this weblink:
http://leift.org/SuppliersDay2020/index.php?viewBooth=152

Exhibitor Information & Pricing
Booth: $375.00 for each 8x6 booth space. Each booth includes a 6 foot table, 2 chairs and carpet.
Electricity: Booths along outer wall or near a wall outlet (red circles on map) can purchase electricity for $25.
Checks can be made out to Lake Erie Section IFT and sent to:
Bill Osgood
33350 Arthur Road
Solon Ohio 44139
Registered your booth but didn't pay? Need to purchase additional items?
Refund Policy
$225.00 refundable prior to April 2, 2020
$150.00 refundable prior to April 22, 2020
No refunds after April 22, 2020
Terms & Conditions
View the Terms & Conditions

You are required to accept the Terms & Conditions before registering a table.
There is a limit of one company per table.
Shipping Information
Ship your booth materials to Signature of Solon Country Club labeled with your company name and Lake Erie IFT Expo. Bring return shipping labels and make sure to call your shipper for a pick up for May 21.
Signature of Solon Country Club
Attn: Events Coordinator
39000 Signature Dr.
Solon, OH 44139

Sponsor the Expo
View Available Sponsorships

Thanks for supporting Lake Erie IFT's Suppliers' Expo!
Online Registration Directions
Suppliers' Expo 2020 Booth Registration
Tables that are "green" are available. Tables that are "red" are already sold. Tables that are "blue" are in process of being reserved.
Tables are automatically held for 20 minutes while you fill out the registration information. Tables will be released if registration is not completed at the end of 20 minutes.
To begin registration click the green pin of the booth you want followed by the Register Booth button.
If you want more than 1 table click the Add Booth button and enter the table number for any additional tables.
If you accidentally exit the registration page go back to the booth map and click Continue Registration button. You will need to input all information again.
You will need to provide the following information:

Table number(s)
Company name, address, phone, and url
Company contact name, title, and email (to be listed in the exhibitor guide)
Exhibitor contact information (who we should contact with Suppliers' Expo 2021 info.)
50 word company description
Product or service category (choose from list)
Accept Terms & Conditions
Registrations received after April 26th will not be included in the exhibitor guide.